Hyoe Koyokaku(Onsen Ryokan)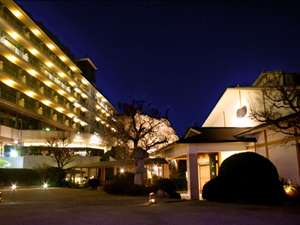 Our three public baths are the largest ones amongst Arima Hot Springs; authentic Japanese-style bath 'Ichi no Yu', western-style bath 'Ni no Yu', and a bath with remnants of Japan's good old days 'San no Yu'. Kaiseki Ryori, Japanese traditional cuisine, cooked with a variety of seasonal vegetables and seafood is guaranteed to entertain your eyes and satisfies your appetite. Hyoe Koyokaku is happily serving all guests with hearty hospitality and manners passed down from generation to generation.
Koyokaku Part1
Onsen(hot springs) & Arima town
Koyokaku Part2
Private open-air bath & Kobe Beef
---
A Room with an Open-air Bath

Guest room

The view from the guestroom
Kobe Beef Course Meal

Private Open-air Bath'Asagiri'

Open-air bath'Ichi-no Yu'
---
Hyoe Koyokaku(Onsen Ryokan)"
Contact