MANDARAKE梅田店(Cartoon Shop)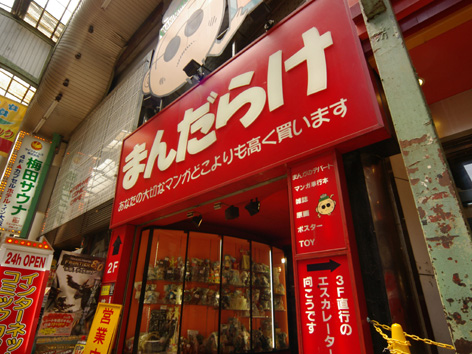 When you enter the door, you can hear the Karaoke anime song from the stage. Mandarake Osaka has the largest cos-play stage to entertain customers with lots of excitement. You can enjoy staying here for a day long with anime anime and anime goods. We also have staff who can help you in en, please ask if you are looking for particular items.
About the cartoon culture of Japan
"Mandarake" is one of the typical cartoon specialty stores in Japan. Chinese reporter's "Wang" reports on the cartoon culture of Japan from "Mandarake Umeda shop". Wang report about "Ikkyu-san""Saint seiya""Dragon ball""One peace""Naruto"cartoons.
---
A store with atmosphere

Huge cartoons

A lot of costume
Interest escalator

Huge cards

A costume play clerk
---
MANDARAKE梅田店(Cartoon Shop)"